CubeSat Communications System Table
Bryan Klofas, bklofas (at) gmail.com
Updated 28 Feb 2017


---
Introduction
This effort grew out of two papers I wrote about communication systems of the CubeSats on orbit. The first paper included the CubeSats launched from 2003 to 2008, and the second paper included the satellites launched from 2009 to September 2012.

I intend this document to be updated whenever new information becomes available. Please contact me if you have updates. The table prints on ANSI C-sized paper, which is 17 by 22 inches.

Also check out Michael Swartwout's CubeSat database, and Gunter's CubeSat Page.


---
Totals
As of Feb 28th, 2017, there have been 508 CubeSats deployed in space from 65 deployments. This works out to 1205 Units of CubeSats from 0.5U to 12U form factors.


---
Download/Changelog
---
Definitions
Deployment indicates what day the CubeSats were deploy in space. For most satellites, this is the launch date. For ISS deployments, this column indicates the rocket used to get to the station, and the day the satellites left the station. Satellites may stay on the station for 6 months or longer before deployment.
Object refers to the spacecraft ID number in the NORAD database, available at Space-Track. Some of the launches with sensitive primary satellites do not have keps posted, so refer to the sponsoring organization's web page. A + indicates there are several identical CubeSats, each with a different spacecraft ID number.
Size indicates how big the CubeSat is. A + indicates that the spacecraft used the extra volume inside the spring, commonly referred to as the "tuna can" or "hockey puck" volume.
TNC (terminal node controller) indicates the processor that accepts raw data bits, and packetizes/formats the data for consumption by the radio.
For Data Rate/Modulation, remember that the symbol rate (baud) is not necessarily the same as the data rate (bps), and cannot be directly compared.
Lifetime refers to the length of the useful life of the satellite.
Status refers to the satellite's status, as of the Date in the last column:

Deorbited: The spacecraft has deorbited.
DOA: Dead on Arrival. This satellite was never heard from in space.
Dead: Spacecraft is now no longer transmitting.
Alive: Satellite is beaconing data, but not achieving its mission, or the mission has ended.
Active: CubeSat is performing its intended mission.

Updated is the date on which the data was updated and verified.
---
Fourth Page Image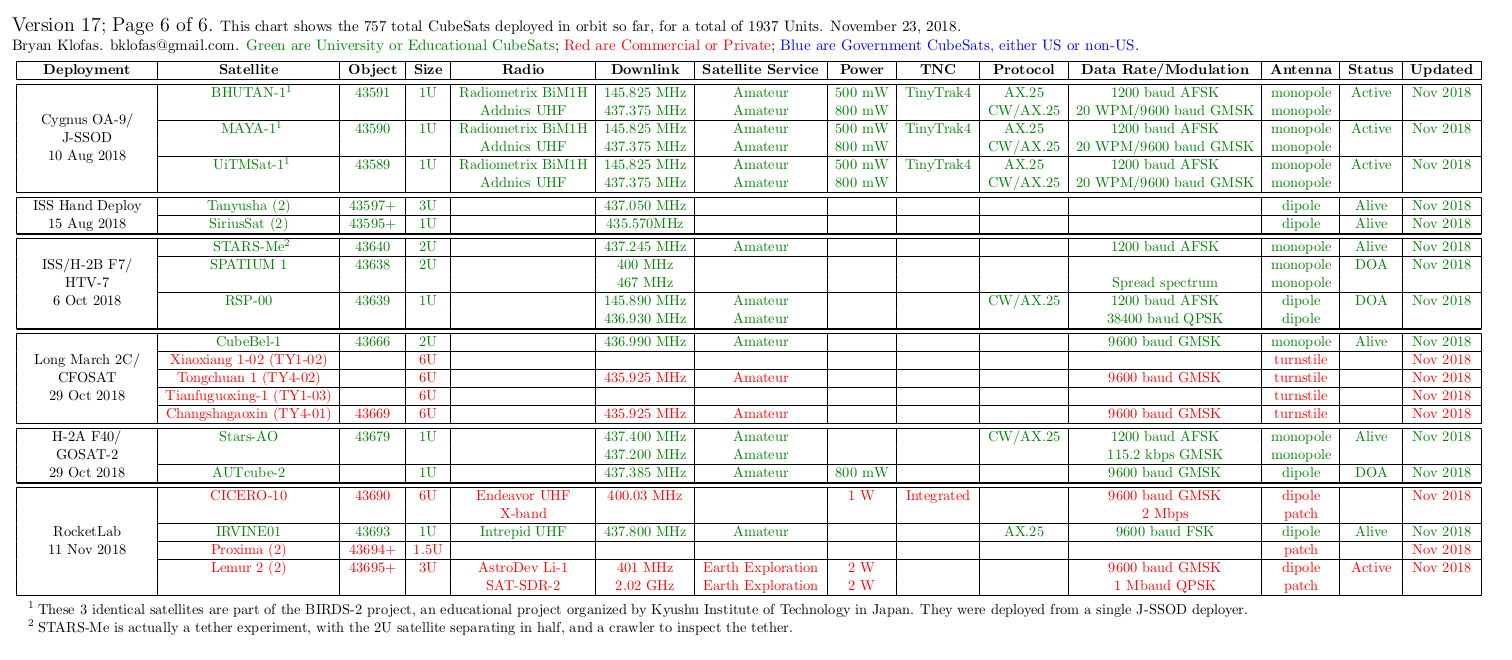 ---
http://www.klofas.com/comm-table/index.html
Updated 28 Feb 2017.